TFB & MvdT Collection
De Bedrijfsnaam & MvdT Collection
De Bedrijfsnaam 'The Fashion Broker is ontstaan na een telefoongesprek met Marlous van der Toorn van MvdT Collection.
Nadat ik steeds vaker vragen kreeg om te helpen (adviseren) bij het opzetten van nieuwe bedrijfsstrategieën. Belde ik met met Marlous. Tijdens een van onze telefoongesprekken, zei Marlous: Het klinkt alsof je een soort "Modemakelaar" bent, The Fashion Broker was geboren.
Marlous en ik kennen elkaar van de tijd van Object (Bestseller) waar zij naast Sales ook de functie van Visueel Merchandiser vervulde. De showrooms kregen opeens een echte jeans wall en ook de voorraad werd aantrekkelijk gepresenteerd.
Marlous was altijd al heel creatief en ondernemend.
Opeens kreeg zij het idee om haar baan en huis op te zeggen en van haar spaargeld te gaan reizen. Het avontuur werd Bali! Na een paar dagen werd zij in Bali aangesproken of zij mee wilde doen met een sieraden cursus. Van bras maakte zij een oorbel die zij niet veel later verkocht aan iemand die haar bediende op het terras. De serveerster wilde hem graag kopen! En zo is MvdT collecties ontstaan. Puur en vanuit haar hart.
MvdT Collection heeft sinds kort ook  een goud collectie en ligt onder andere bij Wolf & Badger in Londen.
De 'Fierce collectie' is haar nieuwste collectie en vertegenwoordigd onder andere vruchtbaarheid en creatieve levenskracht door middel van ringen met een design van een slang. . Een 'oorijzer' wat vroeger vrouwen droegen om hun hoeden op hun plaats te houden en een G-ring die zowel als ring  en/of als uitbreiding op de double Bold oorbel gedragen kan worden behoren ook tot deze unieke collectie.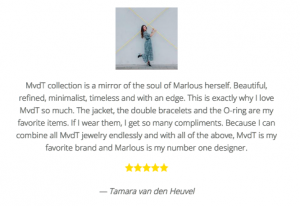 Bezoek de website
[/vc_column][/vc_row]